The test paper has 100 questions, which are randomly selected and grouped by the computerized driver test system in accordance with the ratios specified in the Regulations on Motorized Vehicle Driving Licenses.
The 1650 questions are not officially released by the traffic office, deviations in the translation in the exam are possible. Make sure you check out the exam preparation software with many practice tests on this site available for all platforms. Helping students for many years and improving the questions with user feedback made this the most comprehensive preparation resource available.
Chinese driver's license questions summary
Read the following sections carefully, they answer already a lot of the exam questions
Requirements to apply for a driving license
Age between 18 and 70 (Persons older than 60 need to conduct a health check once a year)
No drug addiction for the last 3 years
Not responsible for an accident which is a crime (e.g. Drink, drive and escape) , drivers will be banned for life
In the last 3 years no driving with a forged license (Banned for 3 years)
In the last year not having tried to obtain a license with false Information (Banned for 1 year)
Probation period
Probation period duration is 12 month when the driver collects 12 points during that time his application will be canceled. During the probation period, the driver is not allowed to drive alone, he needs to put a probation label in the rear window. During the probation, he is not allowed to pull a trailer.
Driving license
The driving license is valid for 6 years, after expiration, the driver needs to renew the license within 90 days. Changes to the driver's information need to be updated on the license within 30 days. In case he moves to a new area or town the renewal needs to be done at the new residential area. When a driving license is lost or damaged the driver needs to go to the vehicle management office to apply for renewal.
Driving
The driver should drive cautious, not more than 4 hours without a break and after 4 hours at least rest for 20 minutes.
Putting the arm out of the window or grasping the gear lever are bad habits and should be avoided, wearing high heels or smoking are dangerous for safe driving.
It is always better to slow down, stop, ensure safety and let others go first.
Parking
It is not allowed to drive on sidewalks, emergency lanes, crosswalks, bus stops, 30 m near a gas station or 50m near an intersection.
Speed limits
On highways, there is a speed limit of 120 km/h and a minimum speed of  60 km/h.
Speed limits on different lanes are shown in the pictures below.
4 lanes
3 lanes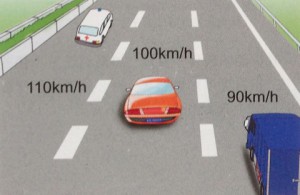 Chinese driver's license test overview – Penalty points
Background information
Ø  Each driver has a credit of 12 points on a 12 months cycle.
Ø  5 levels of point deduction from 1, 2, 3, 6 to 12 along with a fine, subject to the seriousness of the violation.
Ø  After 12 points deduction, the driving license shall be withheld by the Traffic Bureau.  The driver must undergo a 7-day training and pass a new written examination to re-obtain his/her driving license and waive the 12 points deduction.
Ø  If deductions are less than 12 points but all fines are cleared during a cycle period, the points deducted could be waived.  If there are still records of fine not being cleared, the points deducted shall be carried forward to the next cycle period.
A)     Deduction of 12 points for the following violations
Drunk Driving
Flee after committing a traffic violation which is not regarded as a crime
Drive a vehicle without a vehicle license plate or intentionally cover, stain or affix the plate not in accordance with the required standard
Use a fake vehicle license plate/vehicle license/driving license or the vehicle license plate/vehicle license of another vehicle
Reverse driving or driving on the opposite lane on expressways, or U-turn on the central dividing line
Over-speeding by >50% of the allowed speed limit
B)     Deduction of 6 points for the following violations
Drive a vehicle during the driving license suspension period
Drive against traffic lights. (Vehicle must be stopped when the yellow light is on)
Over-speeding by >20% but <50% of the allowed speed limit
C)     Deduction of 3 points for the following violations
Drive below the minimum speed as specified on expressways
Drive on the wrong lane on expressways and city highways
Fail to slow down, stop or give ways to pedestrians at pedestrian crossing areas
Fail to observe prohibition signs/lines
Abrupt overtaking, fail to give way or driving in the opposite direction
Fail to warn others of your car breakdown with proper lighting or warning signs
Drive a car which has not gone through periodic safety technical inspection as required by law
D)     Deduction of 2 points for the following violations
Fail to drive or stop as required at intersections
Use of phone (dialing or answering) when driving
Fail to fasten seat belt when driving on expressways or city highways as required by law
E)      Deduction of 1 point for the following violations
Fail to use lights properly when driving
Fail to follow rules of driving when meeting up with other cars
Fail to display labels of car-inspection, motor-insurance on the windscreen of the car.  Drive without vehicle license and/or driving license.
SaveSave
SaveSave
SaveSave
SaveSave
SaveSave
SaveSave
SaveSave